Working out a cunning new identity.
Based in Dublin, Glofox provides business management software to fitness studios and gyms – an all-in-one solution for member management, class scheduling, payments and more. However, with big plans for future investment, they felt their existing brand lacked vibrancy, was too corporate and didn't reflect the dynamism of the company and their ever-changing product offerings. Our challenge was to best express Glofox's values through a new visual language, including a logo, colour palette, fonts and application treatments.

The Approach

To design an identity that's truly fit for purpose, we needed to put Glofox and its founders through its paces to learn what their longterm vision is for the company. We did this through a series of workshops, leading to a positioning paper which outlined key brand attributes as well as defining their brand purpose - Creating a Healthier World. We distilled all of our research and strategy work into a creative brief which teed the creative team up to get working on a solution inspired by the concept of teamwork, connectivity and pushing boundaries.




The Execution
Using dynamic lines to suggest movement and energy, we created an abstract fox symbol to accompany the brand name, which we set in a customised typeface. The interlocking lines of the fox also represent pathways and connectivity – reflecting a dynamic and evolving company. Drawing inspiration from the linear style of the fox symbol we created the 'Glo-swash' a graphic device that wraps around the imagery to give a sense of teamwork and support. Paired with a vibrant orange and purple, the logo and visual language showcases a company that's ever-ready to embrace constant change and development.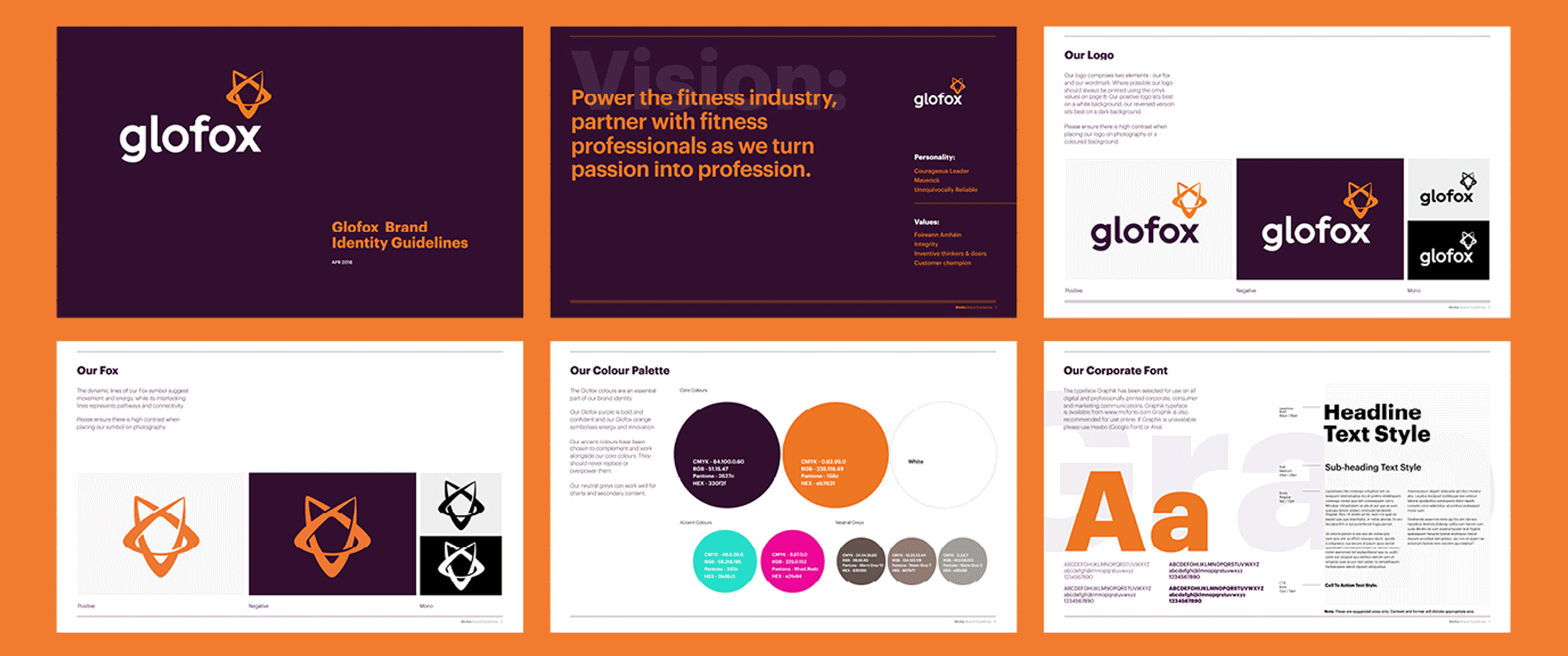 We now have a new brand purpose along with a new visual identity that we absolutely love. As a B2B proposition, we also are delighted with our tagline that sums our offering up so well: Fit for Business, Fit for Life. We're already looking forward to the next phase of our brand development with Red Dog.
Conor O'Loughin, Glofox CEO