A modern development at home in the past.
Knockrabo is a high-end residential development, located in a much sought-after neighbourhood on the Mount Anville Road in South Dublin. Our task was to create a brand identity and suite of marketing tools that befitted the development's sophisticated specifications and evoked a sense of the heritage about the site of the new homes.

The Approach
One of the stand-out features about this development was the sense of craftmanship being investigated in the development but also the desire to retain as much of the site's original features as possible.
We started by grabbing our hard hats and visiting the site to research the development's location and history, learning about the original large Wellingtonia (redwood) trees that were planted during the 1800s and can still be seen on the site today. Further on-site research led us to the original walls and iron gates which have been restored for the pedestrian entrance to the estate and provided visual cues for the identity.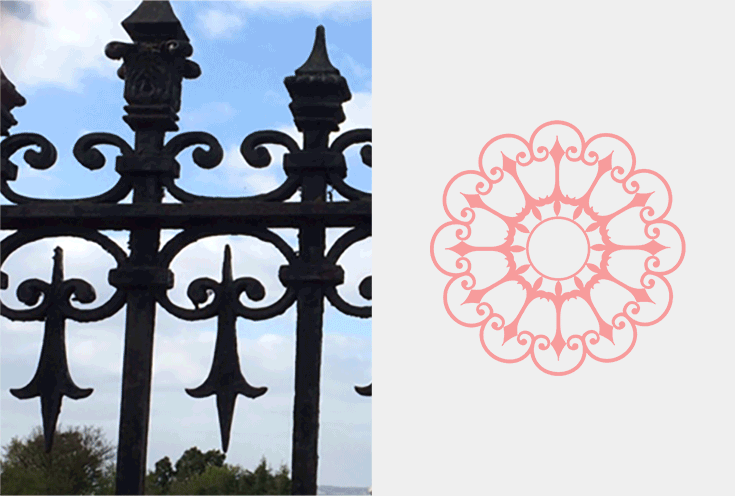 The Execution
The inspiration for the Knockrabo motif came from the intricate design of the original wrought iron gates, and the patterned textures used throughout the brochure are tree rubbings taken from the Wellingtonia. The catalogue features portraits, which we art-directed, with accounts from the architects, designers and craftspeople who were involved at every stage of Knockrabo's development.






We also worked with a writer on the messaging throughout all communication touchpoints – including the tagline 'A Space to Live' and supporting statements like 'Planned with care, Built with Passion' that worked to underline the role that history, location and nature were given while aiming to make the new homes as modern and desirable as possible.






The Results
Our approach to Knockrabo's identity and branding collateral is both true to the history and heritage of the site while evoking a sense of modernity and quality that speaks to high-end, sophisticated living.



We chose to work with Red Dog on our Knockrabo development as we felt they could bring something fresh to property branding and marketing. They did not disappoint. The results are a brand that genuinely captures the essence of this new residential offering; elegant, contemporary and warm. The brochureware took on a whole new approach in this sector by introducing new elements of content which brings the place alive on paper and shows off the attention to detail the development team brought to bear throughout. We are delighted with the work, and they were a pleasure to work with also


Caitriona Flynn, Maplewood Residential