Awards
Transform Awards 2018
Seizing the 'J' for an iconic identity.
Based in Maryland, Jhpiego, an affiliate of Johns Hopkins University, has been breaking down barriers to high-quality healthcare for the world's most vulnerable populations for more than 40 years. In order to engage effectively with potential funders, they needed a new identity to communicate their mission and values with greater impact, personality and focus. All of this with a name that some people (ok, a lot of people!) find challenging to pronounce. So, before we go any further: jhpiego = jay-pie-go. Easy!
We conducted a series of workshops in Baltimore with the CEO, Leadership and Global Communications teams to determine Jhpiego's core proposition and positioning, their values, personality and tone of voice. This resulted in a thorough design brief, which was approved by key stakeholders prior to the commencement of the design process.

The Approach
The people at the heart of Jhpiego's work – parents and their children – were our main inspiration as the universal image of a child being carried by a parent spoke instantly of care, support, and partnerships. The comparisons between this relationship and Jhpiego's work of carrying forward the health of nations and their global partnerships supporting families and communities led to our 'Eureka!' moment.
Instead of trying to avoid that challenging name, we took its initial letter – 'J' – to create an iconic monogram capturing the special relationship between a parent and its child, as well as Jhpiego's commitment to helping others. Paired with a semi-colon, the connection is made – literally and figuratively – to Jhpiego's essential mission and its ambition. These are also reflected in a new tagline – saving lives, improving health, transforming futures – which we also originated.
The Execution
With the identity and tagline approved, we moved on to introducing it to their over 2,500 staff across several Jhpiego departments and locations across the world. As Jhpiego have their own experienced in-house design team, we worked directly with them on how to get the maximum potential out of the new identity.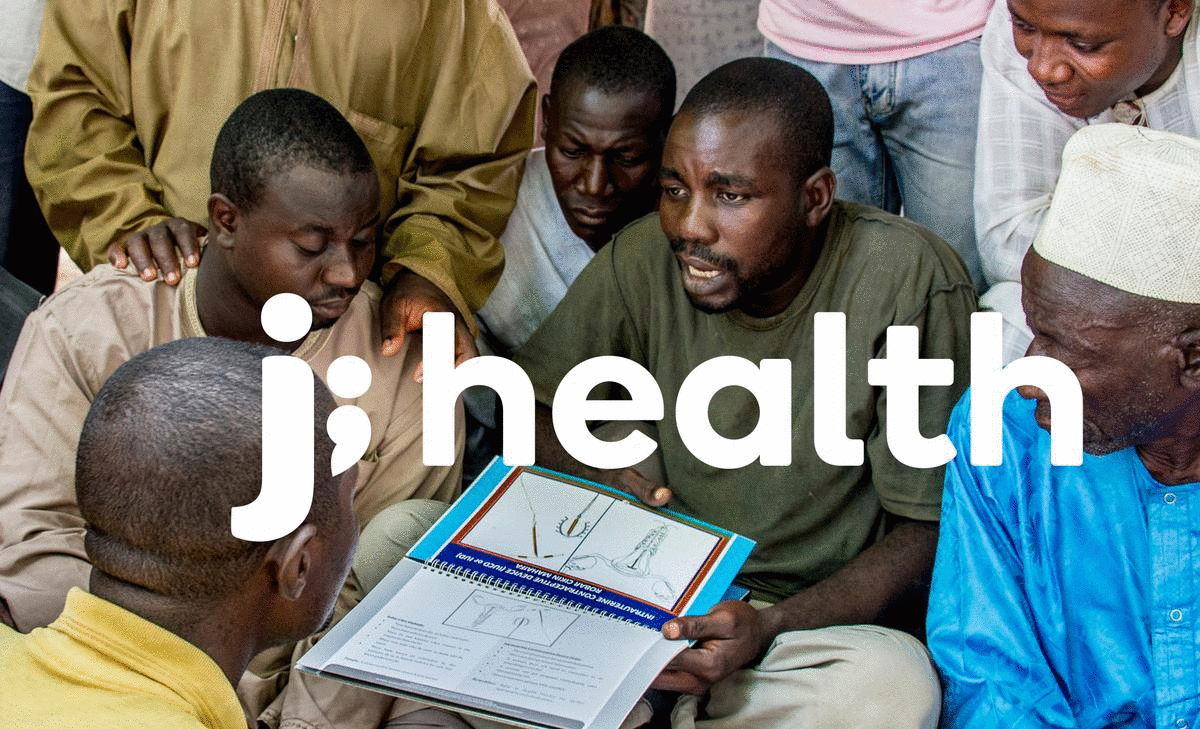 Strict rules and consistency are one thing, but we also worked hard to ensure that communications are kept fresh too. We designed and gave a series of workshops with their team on this specific issue and also delivered artwork templates for them to use as foundations to their work. Red Dog also worked on the delivery of their full social media strategy.

The Red Dog team has been a pleasure to work with on our ongoing brand refresh. Despite being over 3,000 miles away, it felt like their team was right next door. Their research and design approach brought to life our organization's longstanding mission and values in a fresh, creative way. We look forward to working with them throughout the process and recommend that any company or organization thinking about updating their brand should talk with Red Dog first.
Leslie Mancuso, President and Chief Executive Officer, Jhpiego